I-RIM 3D 2022@MakerFaire
General Chairs
Antonio Frisoli
Federica Pascucci
————————————-
Program Chairs
Giuseppe Carbone
Laura Giarré
Gionata Salvietti
Loredana Zollo
Program Committee
Benedetto Allotta
Alessandro Antonucci
Manuel Boldrer
Massimo Callegari
Marco Controzzi
Simona Crea
Elena De Momi
Maria Di Benedetto 
Fanny Ficuciello
Daniele Fontanelli
Domenico Formica
Marco Frego
Emanuele Gruppioni
Cecilia Laschi
Giovanni Legani
Martina Lippi
Agostino Marcello Mangini
Andrea Mannini
Stefano Palagi
Luigi Palopoli
Michele Roccotelli
Marco Roveri
Lucia Sacchi
Massimiliano Solazzi
Walter Ukovich
Renato Vidoni
Gaetano Volpe
Karl von Ellenrieder 
Andrea Maria Zanchettin
Matteo Zoppi
Workshop Chairs
Paolo Arena
Calogero Oddo
Lucia Pallottino
Giuseppe Quaglia
Awards Chairs
Nicola Pio Belfiore
Arianna Menciassi
Daniele Pucci
Organizing Committee
Graziana Cavone
Domenico Chiaradia
Francesca Cordella
Daniele Leonardis
Missimiliano Solazzi
Nevio Tagliamonte
4th Italian Conference on Robotics and Intelligent Machines
I-RIM, the Italian Institute on Robotics and Intelligent Machines, organized I-RIM 3D 2022, the fourth edition of the event on Robotics and Intelligent Machines.
Aim of the event is to offer an important opportunity for academics, researchers, and industrial actors working in the Robotics and Intelligent Machines sectors, to network, present the progress of research and tackle new challenges with particular attention to the perspectives and opportunities in Italy.
This year, for the first time in the history of I-RIM 3D, the event was doubled down!!!

From October 7th to 9th, 2022: Robots in the Future. I-RIM conference took place in Rome, parallel with the Maker Faire event.
October 13th, 2022: Robots in the Field. Event took place in Milan, in parallel with the  RoboHeart event.
Participants in the I-RIM 2022 Conference – Robots in the Future contributed in two modalities:
poster, with the submission of an Extended Abstract;
organization of Workshop/Tutorial on new technological and scientific challenges.
TEMPLATE FOR POSTERS AND PRESENTATIONS

It is highly recommended to use the following templates to prepare presentations and posters.
————————————————————————————
REGISTRATION
The details for the registration are available here
ALERT!!! The tickets that include the social dinner, such as the full tickets, are now SOLD OUT!
———————————————————————————–
IMPORTANT DATES

Deadline for the submission of Extended Abstract and Workshop/Tutorial: September 11th, 2022 September 4th, 2022
Deadline for the request of Booth/Stand: July 14th, 2022
Acceptance notice: Sptember 16th, 2022
SUBMISSION OF CONTRIBUTIONS AND PUBLICATION OF THE CONFERENCE PROCEEDINGS

The extended abstracts and the proposal for workshop/tutorial must be submitted to the following link.When subitting the contribution, the authors will be requested to indicate their preference for the location of the conference where they inted to present their work (please select: @MakerFaire – @RobotHeart).
The articles accepted to the I-RIM 2022 Conference – Robots in the Future will be accessible under the Open Access Gold licence in a EU-compliant repository, citable with a unique Digital Object Identifier.The I-RIM Proceedings Series are available at the following link.
I-RIM 3D 2022@RoboHeart
General Chairs
Paolo Rocco
Lorenzo Molinari Tosatti
————————————-
Program Chairs
Giuseppe Carbone
Laura Giarré
Gionata Salvietti
Loredana Zollo
Program Committee
Benedetto Allotta
Alessandro Antonucci
Manuel Boldrer
Massimo Callegari
Marco Controzzi
Simona Crea
Elena De Momi
Maria Di Benedetto 
Fanny Ficuciello
Daniele Fontanelli
Domenico Formica
Marco Frego
Emanuele Gruppioni
Cecilia Laschi
Giovanni Legani
Martina Lippi
Agostino Marcello Mangini
Andrea Mannini
Stefano Palagi
Luigi Palopoli
Michele Roccotelli
Marco Roveri
Lucia Sacchi
Massimiliano Solazzi
Walter Ukovich
Renato Vidoni
Gaetano Volpe
Karl von Ellenrieder 
Andrea Maria Zanchettin
Matteo Zoppi
Workshop Chairs
Paolo Arena
Calogero Oddo
Lucia Pallottino
Giuseppe Quaglia
Awards Chairs
Nicola Pio Belfiore
Arianna Menciassi
Daniele Pucci
Organizing Committee
Graziana Cavone
Domenico Chiaradia
Francesca Cordella
Daniele Leonardis
Missimiliano Solazzi
Nevio Tagliamonte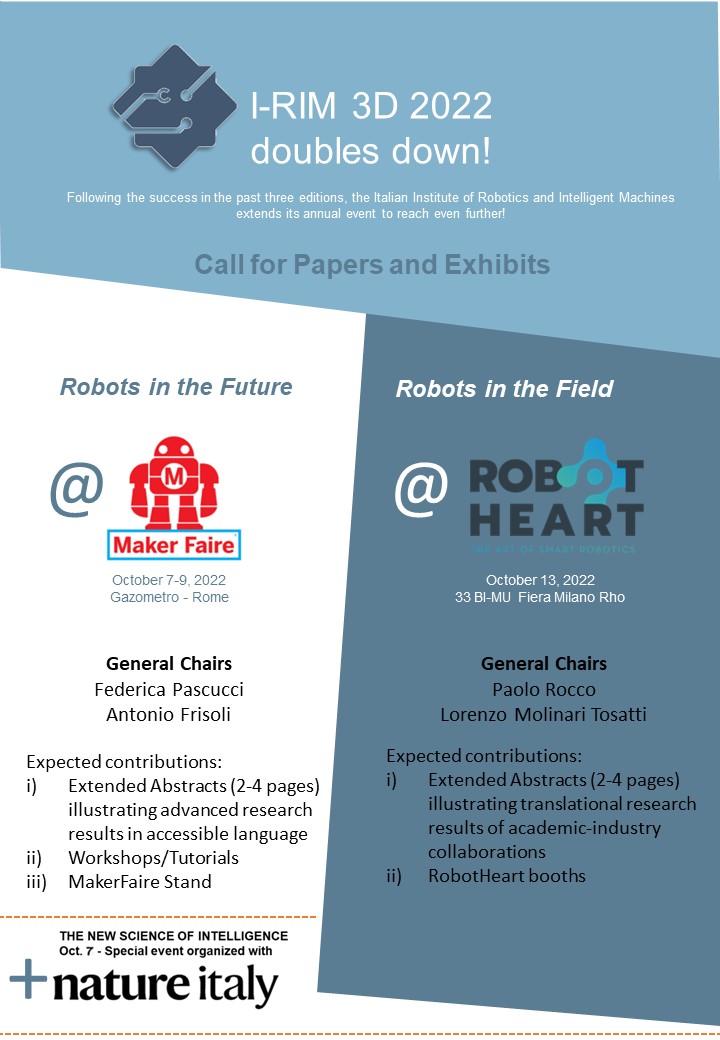 Extended abstracts and short papers
We invite authors to submit contributions to the I-RIM 2022 Conference in the shape of an extended abstract of 2 pages (which could be extended up to a short 4-pages paper). All abstracts and presentations are in English. The conference welcomes novel basic research results, but also contributions based on results already published by the authors in the scientific forum, which are reworked here to illustrate their relevance to applications in a language that is accessible to a larger public for dissemination to developers and practitioners.
The event in Milan, 33.BI-MU fieramilano Rho, will focus on illustrating applied research results, especially addressing and considering  results produced by collaborations between industries and research centers. These contributions are expected to be submitted jointly by at least a representative of an industrial company and a member of the university and/or research center.
Submitted contributions can be accompanied by an optional video, which is indeed encouraged. All submitted articles will undergo a peer-review process. Accepted articles will be collected in the conference proceedings in digital format together with the videos.
All the material will be made publicly available open access (Open Access Gold), and will be both digitally indexed (DOI) and citable.
Instructions for extended abstract submission
Workshops/Tutorial (Rome event only)
Authors are invited to propose the organization of workshops on research activities and thematic tutorials, also aimed at the educational world. The presentation of demonstration activities within the workshops and tutorials is encouraged.
The proposals – which should be submitted through a 2-pages proposal following the dedicated template – must contain:
title, organizers with affiliations and short description of the event
list of speakers, with their affiliations, and expected audience
Authors of contributions to the workshops can have their work published and indexed within the I-RIM Proceedings, if they follow the instructions above for submission to the free sessions.
Instructions for Workshops/Tutorial submission  
Booths and Stands
For an exhibitor stand at Maker Faire – Rome, please submit your application through Maker Faire website as soon as possible.
For an exhibitor booth at RobotHeart – Milan, please submit your application through RobotHeart website as soon as possible.
Submission Deadlines
Deadline for Submission of Extended Abstracts and Workshop/Tutorials:  September 4, 2022
Applications for Booth/Stand Applications: July 14, 2022 (Expired, for more info, contact info@i-rim.it)

Notification of acceptance: September 16, 2022
Submission Instructions
Extended abstracts and workshop/tutorial proposals have to be submitted via EasyChair via the following link.
The authors during the submission phase can indicate their preferred  I-RIM Conference venue  (@MakerFaire – @RobotHeart) where they intend to present their work.
Proceedings

Articles accepted in the I-RIM 2022 Conference are accessible under an Open Access Gold licence on a EU-compliant repository, citable through a unique Digital Object Identifier.
See the I-RIM Proceedings Series, following the link.
Registration
A contribution to the OA publication is required to authors.
See the details for registration, following the link.