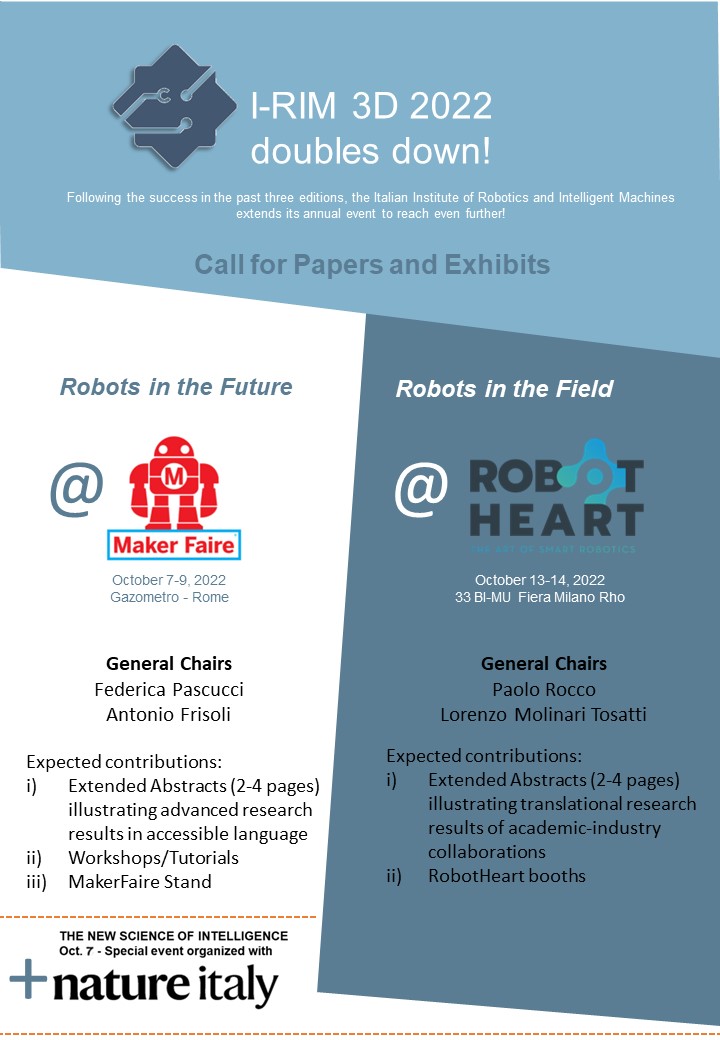 Extended abstracts and short papers
We invite authors to submit contributions to the I-RIM 2022 Conference in the shape of an extended abstract of 2 pages (which could be extended up to a short 4-pages paper). All abstracts and presentations are in English. The conference welcomes novel basic research results, but also contributions based on results already published by the authors in the scientific forum, which are reworked here to illustrate their relevance to applications in a language that is accessible to a larger public for dissemination to developers and practitioners.
The event in Milan, 33.BI-MU fieramilano Rho, will focus on illustrating applied research results, especially addressing and considering  results produced by collaborations between industries and research centers. These contributions are expected to be submitted jointly by at least a representative of an industrial company and a member of the university and/or research center.
Submitted contributions can be accompanied by an optional video, which is indeed encouraged. All submitted articles will undergo a peer-review process. Accepted articles will be collected in the conference proceedings in digital format together with the videos.
All the material will be made publicly available open access (Open Access Gold), and will be both digitally indexed (DOI) and citable.
Instructions for extended abstract submission
Workshops/Tutorial (Rome event only)
Authors are invited to propose the organization of workshops on research activities and thematic tutorials, also aimed at the educational world. The presentation of demonstration activities within the workshops and tutorials is encouraged.
The proposals – which should be submitted through a 2-pages proposal following the dedicated template – must contain:
title, organizers with affiliations and short description of the event
list of speakers, with their affiliations, and expected audience
Authors of contributions to the workshops can have their work published and indexed within the I-RIM Proceedings, if they follow the instructions above for submission to the free sessions.
Instructions for Workshops/Tutorial submission  
Booths and Stands
For an exhibitor stand at Maker Faire – Rome, please submit your application through Maker Faire website as soon as possible.
For an exhibitor booth at RobotHeart – Milan, please submit your application through RobotHeart website as soon as possible.
Submission Deadlines
Deadline for Submission of Extended Abstracts and Workshop/Tutorials:  September 4, 2022
Applications for Booth/Stand Applications: July 14, 2022 (Expired, for more info, contact info@i-rim.it)

Notification of acceptance: September 16, 2022
Submission Instructions
Extended abstracts and workshop/tutorial proposals have to be submitted via EasyChair via the following link.
The authors during the submission phase can indicate their preferred  I-RIM Conference venue  (@MakerFaire – @RobotHeart) where they intend to present their work.
Proceedings

Articles accepted in the I-RIM 2022 Conference are accessible under an Open Access Gold licence on a EU-compliant repository, citable through a unique Digital Object Identifier.
See the I-RIM Proceedings Series, following the link.
Registration
A contribution to the OA publication is required to authors.
See the details for registration, following the link.